Mana Pools & Matusadona
Photographic Safari
An 11 day photographic tour of Zimbabwe's magnificent Zambezi Valley.
Mana Pools & Matusadona
fotoSafari
Een 11-daagse fotosafari in de prachtige Zambezi Valley in Zimbabwe.
Experience the ultimate safari
Have you ever been on safari? Do you think you have seen it all? Think again!
Mana Pools is the destination where you will experience the ultimate safari. You will never have been closer to the animals, never been more one with Nature.
From elephants hanging round your tent, to wild dogs catching their prey right in front of your eyes… and all this on foot! This is every photographer's dream. Being able to approach the animals and take up a low viewpoint. Position yourself wherever you want to take the best pictures…
And we haven't even mentioned the magical light. During the dry season, Mana Pools is one of the richest natural areas of Zimbabwe. Elephants, lions, leopards, painted dogs, hyenas and cheetahs, hippos and an incredible variety of birds.
Mana Pools: a magical place
Everyone talks about the Mana Magic. But what does it mean? First of all, there is the Acacia Albida forest, harboring a mystical atmosphere. The dust and the light create a blue haze in between the trees, which feels quite unearthly. Add to that the warm sun rays which bathe the forest in a golden light, then you'll know what they are talking about when they mention Mana Magic.
The large mahogany and fig trees are very impressive too.
The Zambezi escarpment on the Zambian side, across the Zambezi river, forms a beautiful backdrop with often a blue haze as well.  The park has been declared by the UN as a World Heritage site.
Unprecedented photographic opportunities
The fact that you can get out of the car makes Mana Pools special for photographers! You step closer towards the animals, you can take lower positions by lying on your stomach or you can follow tracks leading to hunting wild dogs. Say goodbye to the bird's eye view perspective that you get when taking photographs from the jeep.
Matusadona National Park
The Matusadona National Park is one of the Zambezi valley's wildlife and wilderness treasures. Remote, rugged and accessible only by air charter, 4 x 4 or boat, this wonderful park encompasses Lake Kariba's most beautiful southern shorelines, creeks and bays, a vast flat bush-covered plateau cut by numerous riverlines and the wild, wide, 600m-high Matusadona mountain range which divides the Zambezi valley from the upland farmlands behind. The Park lies about 20km across the lake from the town of Kariba, and is bounded by two spectacularly beautiful rivers, in the west, the Ume, which meets the lake in a wide estuary and in the east, the Sanyati with its magnificent, steep sided, rocky gorge.
On 7th November 1958, just prior to the completion of the Kariba Dam wall in December of that year, the Matusadona Park was declared a non-hunting area. This was important as the fast rising waters of the Kariba Dam meant that thousands of people and animals would need to move from the river's banks. The famous "Operation Noah", orchestrated by Rupert Fothergill, moved the bulk of the wildlife into the safety of this park. In 1963, the wildlife area was declared a game reserve, and Operation Noah was completed in 1964. Only in 1975 was Matusadona made a national park under the Parks and Wildlife act of Rhodesia.
The lake is characterised by dry dead trees – called petrified forests – these are remaining woodlands that were flooded and drowned as the water rose once the  Zambezi River was dammed and turned into Lake Kariba.  These trees make an excellent backdrop for photgraphy
What makes this photography trip so special?
We travel with a small group of up to 6 participants.
The journey is all about photography.
We receive guidance from Carole, a professional wildlife photographer and a local top guide.
We experience the park in the unique setting of a comfortable camp in the wild nature.
We spend the full 7 nights in Mana Pools, the only wildlife park in Africa where you can walk responsibly among lions and elephants.
This is the best place to photograph wild dogs or painted wolves. Sometimes you're even able to walk with them while they hunt!
Our second location is Rhino Safari camp, that is situated in Matusadona National Park, on the shores of lake Kariba, where we will spend 3 nights
Get to know your Tour Guide
Carole Deschuymere traveled to Mana Pools 10 times already:
There is a kind of magic in the air here. I've never felt as alive as in Mana Pools. You must have experienced it to understand …
Carole and a local guide form a team to provide you with the very best photography experience.
Is this photography tour something for you?
If you are into photography, you will have the time of your life. Mana Pools is every photographer's dream. Whether you are a beginner or an experienced photographer, that does not matter for this trip.  Carole will help you according to your level of photography.
If you are not into photography, you will also have the time of your life!  You will be immersed in the bush, walk with elephants, sit with lions and wild dogs…  Every day we come across new things.  So don't think this trip is not for you. Mana Pools is all about the experience of being one with nature.  Away from city life, back to the roots.  You will love it!
Come and experience the Mana Magic yourself.
Our Camp at Mwinilunga
Camp in our luxury mobile safari set up with large twin bed tents with en ­suite facilities. Be amazed at the African night sky with no light pollution. You feel truly secluded looking up at the trillions of stars, which line the sky.
Enjoy our talented chefs 3 course meals daily. All meals are from a custom menu, meaning we can cater for all dietary requirements.
Camps are open to nature and have no boundaries so be prepared to share your space with a host of wildlife, which call the riverbanks home.  Do not be scared when an elephant comes along to take a look …
Rhino Safari camp
On the 15th of October we take the boat back to Chirundu.  There we take a minivan to Lake Kariba.  By motorboat we cross Lake Kariba to Matusadona NP.  We will spend 3 nights in the wonderful Rhino Safari Camp, on the shore of the lake.  Every day we will explore the park either by car or on foot.  The petrified trees in the lake offer a wonderful backdrop for photography.
Transport
The international flight is not included in the price, but we can recommend which flight to book that best meets up with the trip, and if you like, we can book it for you. If you wish to arrive a day earlier we can arrange a lodge in Harare for you.
Transport from and to Mana Pools is by minivan. We drive from Harare to Chirundu, where we take a boat to go into the park.
In Mana Pools we use a safari jeep, which is spacious but which we will leave at regular intervals to go and take photographs on foot.  Same for Matusadona.
Climate, clothing and equipment
This time of year can be very hot. Appropriate clothing is recommended.
Sturdy walking shoes are a must, because we will walk a lot in the park. A light pair of trousers is essential because we often sit on the ground or lie down, which is not always so comfortable. Light shirts or tops, and a light sweater for the evenings, or at least a shirt with long sleeves.
Be sure to bring your camera, wide angle and telephoto zoom lens, tripod or monopod with you. A beanbag is always useful when taking pictures at ground level.
More information will follow one month before departure.
Itinerary
We arrive in Harare on the 8th of October, early morning, where our minivan is picking us up to bring us to Chirundu.  We'll arrive there around lunchtime. The drive through Zimbabwe will be quite the adventure. In Chirundu we will board a boat to bring us into the park.  On the Zambezi we will see our first wildlife!  Hippo's, elephants… We will arrive in camp in the late afternoon.
We will be sleeping in a comfortable tented camp along the Zambezi river for the next 7 nights. We will get up early every morning and after some coffee and a biscuit we will head out to try and find something to photograph in the beautiful morning light. And this is when the fun begins! We get out of the car, and head into the landscape on foot to capture the best images. This way we can choose our own point of view, according to the light. Our guide will safely take us to get closer to the animals. We will return to the camp for brunch at about 10 – 11 am.  Afterwards there will be time to discuss our photographs and to rest. At about 4 pm we will head out again in search of new adventures. After sunset, we will drink a sundowner around the camp fire while the cook prepares our evening meal.
On 15 October we will take the boat back to Chirundu, where a minivan will pick us up and bring us to Lake Kariba.  There we will board a boat which will bring us to Matusadona NP.  We will spend 3 nights in the wonderful Rhino Safari Camp on the shores of lake Kariba.  The next 3 days we will explore the park by car and on foot.
On 18 October, Today we take the boat back to Kariba, where a minivan will pick us up to drive back to Harare for our evening flight.  If you wish you can add another night in a lodge, before flying home.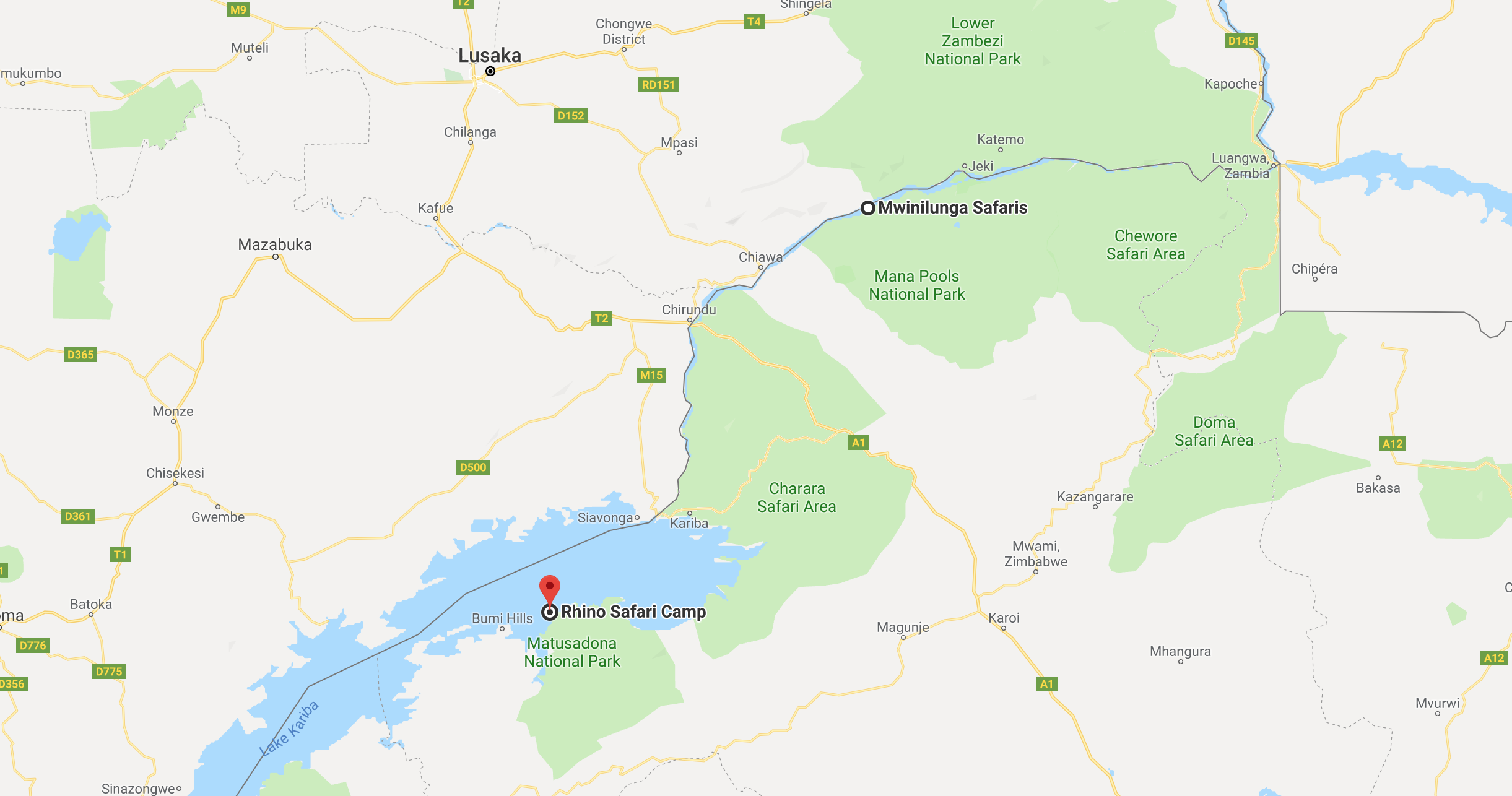 Included
specialized local guide
enthousiast guiding by a professional  photographer
all transport in Zimbabwe
all nights
all meals
all excursions and entrance tickets for parks
all drinking water
insurance guarantee fund
Excluded
travel insurance and cancellation insurance
personal expenses
alcoholic drinks and softdrinks
visa fees (if applicable)
international flights and airport taxes
tips for guide and camp staff
Ben je op zoek naar een reis met veel avontuur, een geweldige fotograaf als reisbegeleiding, iemand die tijd neemt om je fotografie naar een hoger niveau te tillen, je houdt van eten aan het kampvuur, heel de dag plezier beleven en dit met  iemand die Afrika door en door kent, dan is er maar één adres : " Wildlife Photography & Safari by Carole Deschuymere".
Wij zijn alvast met mooie plaatjes naar huis gekomen en vonden de ganse reis op alle gebied  TOP.
Onze reis naar Botswana in 2020 is ondertussen reeds lang geboekt.
Danny Plettinckx
Danny Plettinckx
Africa, The time of my life, die al heel lang op het lijstje stond, en wat voor één. Het was emotioneel en tegelijkertijd thuiskomen.
Ik had mijn oog laten vallen op Mana Pools met die mooie bomenlandschappen en blauwe fog telkens die je foto's afmaken. De zwoele sundowners tussen en met de dieren. The big five en zoveel meer.
"Het is je geluksreis, je krijgt het allemaal!" herhaalde Carole telkens.
Heel goede safari begeleiding en zeker niet te vergeten super goede fotobegeleiding. Voor wie vragen had, niks was Carole teveel om zich met jou eventueel persoonlijk de uitleg te doen.
Corine Minous Vanderhelstraeten
After having spent time with Carole on a couple of African photographic trips, my photography has improved 500%.
She has taught me all I now know about photography. Always explains everything very well.
I would 100% recommend going on one of Carole's African adventures.
Kay Tompkins
De ultieme safari
Ben je ooit al eens op safari geweest? Denk je dat je het al allemaal gezien hebt? Think again! 
In Mana Pools National Park in Zimbabwe zal je de ultieme safari beleven. Nog nooit was je zo dicht bij de dieren, nog nooit was je zo één met de natuur.
Olifanten rond je tent, wilde honden die een prooi vangen voor je neus, … we leggen alles vast op prachtige foto's. We beleven het doen en laten van de wilde dieren te voet. Het is de droom van iedere fotograaf om wildlife zo dicht te kunnen benaderen en vanuit kikkerperspectief te fotograferen. Het is een luxe om jezelf te kunnen positioneren waar je wilt om de beste foto te maken.
En dan hadden we het nog niet over het magische licht. Mana Pools is in het droge seizoen een van de rijkste natuurgebieden van Zimbabwe. Olifanten, leeuwen, luipaarden, wilde honden, hyena's, jachtluipaarden, nijlpaarden en een ongelofelijke variëteit aan vogels…
Mana Pools: een magisch oord
Iedereen spreekt over Mana Magic, maar wat bedoelen ze daar nu mee? Ten eerste is er het Acacia Albida-bos, waar een mystieke sfeer hangt. Het stof en het licht toveren een blauwe schijn tussen de bomen, die onaards aandoet. Voeg daar de goudgele zonnestralen aan toe die het bos in een gouden licht doen baden, en je weet wat ze bedoelen met Mana Magic.
Daarnaast zijn ook de grote Mahonie- en vijgenbomen heel indrukwekkend.
De Zambezi Escarpment aan de kant van Zambia, over de Zambezi Rivier, vormt een prachtige achtergrond voor je foto's, en heeft vaak ook een blauwe schijn. Mana Pools National Park is door de VN uitgeroepen tot beschermd werelderfgoed. 
Ongeziene wildlife-fotografie
Het feit dat je hier te voet in het park kan, maakt Mana Pools zo speciaal voor fotografen! Je stapt dichter naar de dieren toe, je kan lagere standpunten innemen door op je buik te gaan liggen of je volgt sporen naar de wilde honden terwijl ze aan het jagen zijn. Zoveel meer dan het vogelperspectief dat je vanop de jeep krijgt. 
Ook voor mensen die niet fotograferen is deze reis een bijzondere belevenis.  Je wandelt met olifanten, zit bij leeuwen en wilde honden, en verkent het park grotendeels te voet… Nog nooit zal je je zo één met de natuur gevoeld hebben!
Matusadona National Park
Eind jaren '50 zette de Kariba Dam een groot deel van de midden Zambezi vallei onder water, waardoor het op twee na grootste kunstmatige meer ter wereld ontstond: het Kariba Meer. Het overvloedige wild concentreerde zich op de eilanden en de zuidelijke oevers waar Matusadona National Park gevormd is. Het meer is de perfecte plaats om te genieten van een zonsondergang, de verdronken mopane bomen zorgen voor unieke beelden. Er is veel wild rond het meer en in het nationale park, van kuddes olifanten tot krokodillen. In het park leven ook de Big Five. U treft hier grote kuddes buffels en een gezonde populatie van antilopen, die een grote aantrekkingskracht hebben op katachtigen en andere roofdieren.   
We gaan het park verkennen met de boot, met een open safari-jeep, en te voet.
Wat maakt deze fotogra
fiereis zo bijzonder?

 
We reizen met een klein groepje van maximaal 6 deelnemers.
We krijgen begeleiding van Carole, een professionele wildlife fotografe en een lokale topgids.
We beleven het park in de unieke setting van een comfortabel kamp in de wilde natuur.
We zitten de volle 9 dagen in Mana Pools, het enige wildpark in Afrika waar je verantwoord kan rondwandelen tussen de leeuwen en olifanten op de begane grond
Dit is dé beste plaats om wilde honden of 'painted wolves' in actie te zien. Soms kan je zelfs met ze meelopen terwijl ze jagen, en bij hen zitten terwijl ze hun prooi verorberen.

Onze tweede locatie is Rhino Safaricamp in het prachtige Matusadona NP, aan het Karibameer
Maak kennis met je reisbegeleider
Carole Deschuymere reisde al negen keer naar Mana Pools:
Er hangt hier een soort magie in de lucht. Ik heb me nog nooit zo levend gevoeld als in Mana Pools. Je moet het meegemaakt hebben om het te begrijpen ….
Carole en een lokale gids vormen een topteam om je de allerbeste belevenis te bezorgen.
Is deze fotografi
ereis naar Mana Pools iets voor jou?

 
Als je gebeten bent door fotografie, is deze reis zeker iets voor jou!  Mana Pools is een droom voor iedere fotograaf.  Of je nu beginner bent of gevorderde, heeft van geen belang voor deze reis.  Carole helpt je volgens jouw niveau.  En je komt met veel betere foto's thuis!
Zegt fotografie je niks, maar je houdt van de natuur en van dieren, dan is deze reis ook echt iets voor jou!  Je wordt ondergedompeld in de wilde Afrikaanse natuur, je wandelt mee met olifanten, je zit bij leeuwen, hyena's en wilde honden zitten.  Iedere dag ervaar je nieuwe dingen. 
De ervaring om één te zijn met de natuur, te leven in de dierenwereld, is ongeëvenaard.  Weg van het drukke leven, back to the roots.  Ervaar de Mana Magic zelf!
Mwinilunga Kamp
We verblijven in een privé-tentenkamp, langs de Zambezirivier, en slapen in grote canvastenten. Elke grote tent heeft twinbedden en een en-suitetoilet. De douche is apart. 
 Elke dag serveert onze chef heerlijke maaltijden, je zit gezellig aan een lange tafel in de Afrikaanse bush. De maaltijd kan aangepast worden naar jouw behoefte (bijv. vegetarisch, of allergieën)  
Het is een open kamp, zonder grenzen: we delen het kamp dikwijls met dieren.  Niet schrikken als er een olifant aan tafel komt staan!
Rhino safari camp
Op 15 oktober varen we op de Zambezi terug naar Chirundu, waar we met een busje naar Lake Kariba rijden.  Daar worden we weer opgehaald met een boot, om te varen naar Matusadona NP.  We verblijven 3 nachten in het prachtige Rhino Safari Camp, op de oever van het Karibameer. Elke dag verkennen we Matusadona zowel met de wagen als te voet.  De dode bomen in het water vormen een prachtige achtergrond voor foto's!